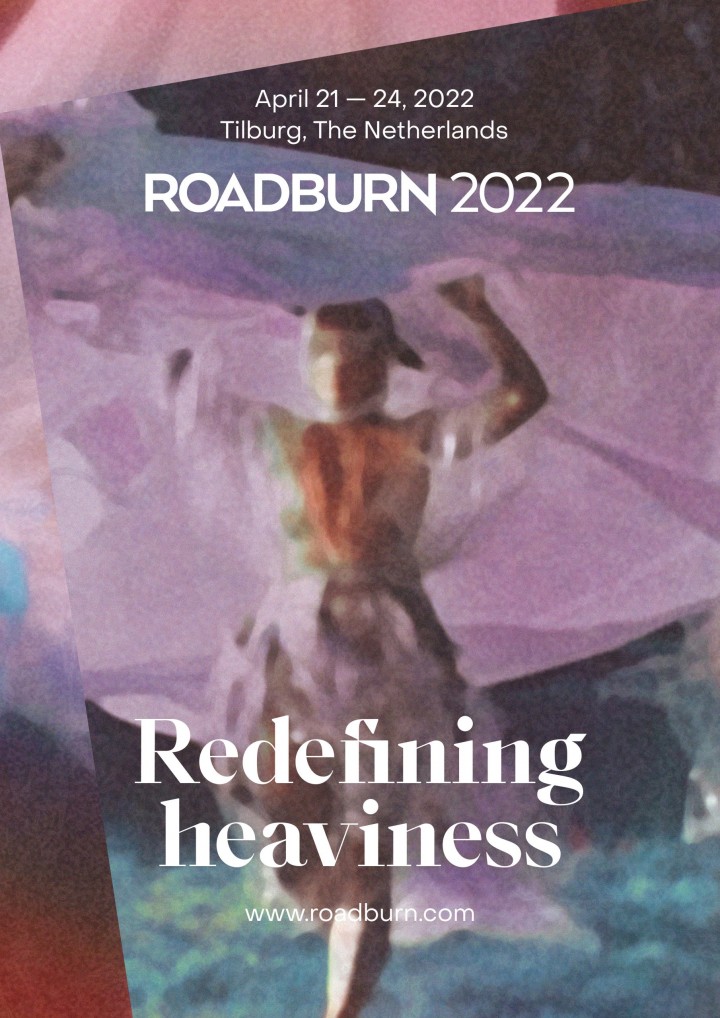 ROADBURN 
April 21-24, 2022
013 Tilburn Holland 
Roadburn is known for the ultimate great line-up covering a wide range of different kinds of music styles all the way, presenting the most unique underground names and rising stars. The Roadburn festival is arranged at the 013 Poppodium venue in Tilburg, The Netherlands between April 21-24. Thousands of music lovers from every corner of the world travel to experience the friendly spirit of Roadburn and enjoy several performances of a number of bands and artists.  Every year Roadburn choices the official curator who picks up their own favorite bands to Roadburn.
The curators of 2022 are Milena Eva & Thomas Sciarone being the duo of GGGOLDDD. The duo is going to perform This Shame Should Not Be Mine for the first time live in front of the Roadburn audience. GGGOLDDD has a strong bond and connection to Roadburn. Their role as curators was nothing, but obvious. As the artistic director of Roadburn Walter Hoeijmakers says :
"This Shame Should Not Be Mine, elevated GGGOLDDD to a whole new level, as it made such a huge impact – musically, emotionally, and spiritually. The intimate connection felt by everyone online will be greatly amplified at Roadburn 2022, and we could think of no one better than Milena and Thomas to get us all reconnected."
During these four days, there are a lot of interesting amazing artists, musicians, bands and performers. As for the line-up of Roadburn 2022 in general, it is going to a mind blowing experience again. Just take a glance at the line-up :
40 Watt Sun, Alcest, Alice Hubble, Amnesia Scanner Årabrot, Atonia, Backxwash, Big Brave, Blak Saagan, Bruit ≤, Cloud Rat, Deathsomnia, Die Wilde Jagd, Divide and Dissolve, Dödsrit, Duma, Emma Ruth Rundle, Euroboy & Alicia Breton Ferrer, Faceless Entity, Fågelle, Five The Hierophant, Forndom, FREJA, Full of Hell, GGGOLDDD, Gott, Green Lung, Hangman´s Chair, Hangman's Chair x Regarde Les Hommes Tomber, HEALTH, Helms Alee, Huntsmen, James Kent & Johannes Persson, Jo Quail, Kamiel Thomas, Kanaan, KANGA, Karin Park, Kælan Mikla, Koldovstvo, Kollaps, Kungens Män, Lamp of Murmuur, Lili Refrain, Lingua Ignota, Liturgy, LLNN, Lustmord, Lustmord & Karin Park,Maggot Heart, Mandy Indiana, Messa, Midwife, Milena Eva & Thomas Scarione (Curators), Mizmor, Nothing, Oslo Tapes, Platon Karataev, Primitive Man, Radar Men From The Moon, Russian Circles, Senyawa, Silver Knife, SLIFT, Smote, Solar Temple x Dead Neanderthals, Sólstafir, Sordide, SØWT, Spiritual Poison, Sum Of R, Supersonic Blues, TAU & the Drones of Praise, Terzij de Horde // Ggu:ll // broeder Dieleman, The Ballet Bombs, The Bug – feat. Flowdan & Logan, The Devil's Trade, The Devil's Trade x John Cxnnor, The Holy Family, Trialogos, Ulver, Ural Umbo, Vile Creature & Bismuth, Vitriol performs Nihill, Warhorse, Wyatt E., Year Of No Light, Zetra,
It is kind of hard to pick up one or two certain bands or artists as all of them definitely will offer amazing and unforgettable performances. Roadburn has always brought interesting yet small and yet unknown artists to the festival. Who knows which of them may be the next new big thing. For example, Ghost and Twin Temple enjoy the massive following and success thru the whole world nowadays, but remember when they played at Roadburn. Black metal, doom metal and other types of music, create the unique climate of what Roadburn is known for and is all about. Several bands and artists also perform one kind of special set by playing their rare songs or the entire album for the Roadburn audience.  Besides the music, meeting people and fans is a big part of the Roadburn spirit when the whole area of 013 is entirely packed by music lovers from all over the world.
The four-day event gives all of us an unforgettable journey into the world of music and friendship, which all is needed in the malicious world. As the mastermind and director of Roadburn Walter Hoeijmakers perfectly sums it up :
Artistic director, Walter Hoeijmakers, comments:
"Roadburn 2022 will be a festival of hope; a celebration of underground music by Roadburn alumni and young and upcoming bands alike. It feels so great to offer them a platform and it's equally great to offer our community their much-missed home away from home. Despite the difficult circumstances with live music we remain optimistic and move forward with caution. It's not easy but we're really hopeful to be able to welcome you to Roadburn 2022. The idea of celebrating together makes everything worthwhile."
Welcome to Roadburn and enjoy the music and meet friends.
The Official Roadburn sites
UPDATES
More bands have been confirmed for Roadburn, here is the official statement :
We promised a handful more bands – and here they are! We're thrilled to welcome Wiegedood back to Roadburn as they perform their new album There Is Always Blood At The End Of The Road in full on the main stage, as part of Milena Eva and Thomas Sciarone's curated event. Svalbard will make their return to the mainland with a one off performance, and Motor!k, Severant and Ordigort will make their Roadburn debuts.