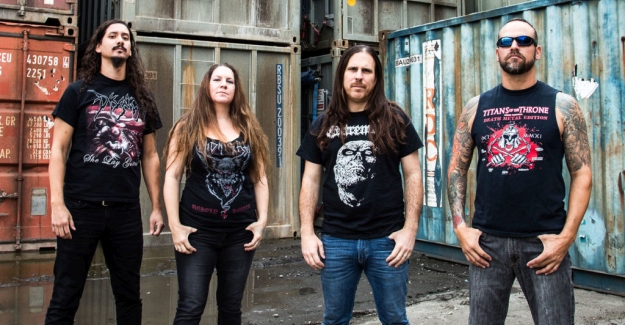 American death metal group Gruesome issue second full-length studio album Twisted Prayers on June 1st, 2018 through Relapse Records.
Twisted Prayers was recorded with producer Jarrett Pritchard at New Constellation Studios in Orlando, Florida. Contributing two guest guitar solos was James Murphy, formerly of Death, Obituary, and Testament.
Cover artwork duties fell to Ed Repka.
The track listing is as follows;
01. 'Inhumane'
02. 'A Waste Of Life'
03. 'Fate'
04. 'Lethal Legacy'
05. 'Fatal Illusions'
06. 'Crusade Of Brutality'
07. 'At Death's Door'
08. 'Twisted Prayers'
Gruesome's line-up is as follows;
Matt Harvey (vocals and guitars)
Daniel Gonzalez (guitars)
Robin Mazen (bass)
Gus Rios (drums)
An official lyric video was created for the track 'A Waste Of Life', which can be viewed below.
Frontman Matt Harvey commented: "'A Waste Of Life' was a great opportunity to channel (Death's) Chuck (Schuldiner) and vent some frustration in a constructive way – through making some good ol' fashioned death metal. It's great to move forward in the Death catalog and get some new ground to cover. As much fun as we had working with the raw and nasty stuff on Savage Land (April 2015) and Dimensions Of Horror (May 2016), it's great to challenge ourselves musically and thematically just like Chuck, James, Terry (Butler), and Bill (Andrews) did on Spiritual Healing (February 1990). Hopefully we do those guys justice and everyone has as much fun listening to the track as we did creating it."
Debut studio record Savage Land was released in April 2015 via Relapse.
Promotional photograph by Ryan Tamm.
News Source : MetalForce Magazine