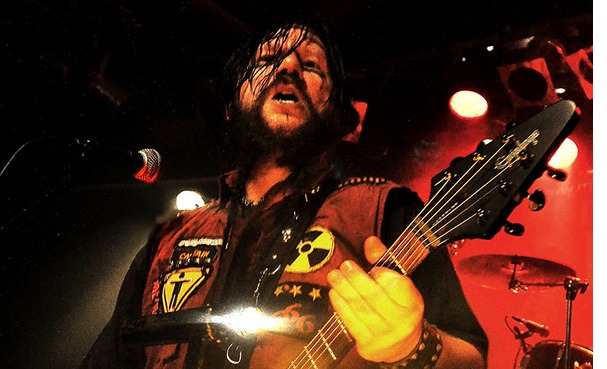 Since J. Bergman and his creation Man.Machine.Industry had the opportunity to appear in the PS3 / X-Box 360 The Darkness things moved on fast for the band . After playing Sweden Rock Festival in 2009 the band signed a record deal with GMR Music (Krux, Crucified Barbara, Kamchatka) and released their third album "White Trash Devil In a Jesus Christ Pose" in 2010.
The album got great response from both fans and media and the band went on the road playing with bands such as Dr: Midnight & The Mercy Cult, Sonic Syndicate, Deathstars, Corroded, Raubtier, Engel among others. The band also climbed as high as number ONE on the My Space top chart for Swedish bands and held the position for a week and top 50 for a month.
In April 2012 J.B and his machine released the critically acclaimed album "Lean Back, Relax and Watch The World Burn" getting the best response possible. The album also has a guest appearance from Jens Westin of CORRODED on the single/video track "Eighties" and on the second video/single you can hear/see fifteen fans taking part of the recording and also long time friend of J.B. Ronnie Nyman (Always War) appears in the song and video.
As a live band MMI is something special guaranties Sweden's Close-Up Magazine when they graded the band 9/10
for a live show with the words:
-Bergman screams with an intensity that would scare even Lemmy himself.
You rarely hear metal more powerful and genuinely mean.
As always MMI delivers a wide spread in their albums, all from the heaviest of the heavy in songs like "Lean Back relax And Watch The World Burn" to the fast blasting drums in "Time". The band also delivers their first ever ballad in "The Cage" where J.B gets to show that he has a soulful depth and feeling to his voice.
A song like "Vivite Et Sinite Mori (live & let die)" and "What You See Is What You Get" shows yet another side of the band, a more commercial side but without letting their aggressive side suffer. And in songs like "To A Blood Red Sky", "AIM! HOLD! FIRE! "and "War God" you definitely hear their thrash metal riffs crunching away just as many songs on the previous album did.
J.B calls the music he makes HEAVY METAL with an industrial touch. Nothing more, nothing less. Watch a video here: www.youtube.com/watch?v=F5Bj0Mvhcpg