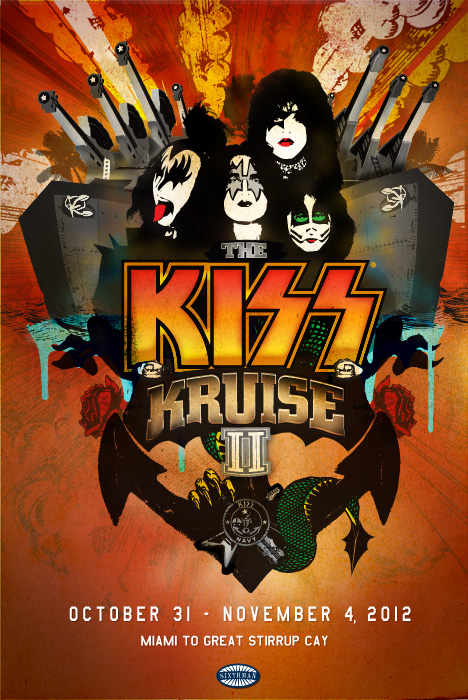 The second KISS Kruise is setting sail October 31st to November 4th, 2012 from Miami, FL to Great Stirrup Cay, Bahamas onboard Norwegian Cruise Lines' Norwegian Pearl, but Hurricane Sandy may affect its departure.
An update reads: "We are aware that Hurricane Sandy is affecting many of your travel plans getting to Miami this week. We're working with Norwegian Cruise Line to delay our departure time from Miami on Wednesday as well as an alternate destination port to allow guests to meet the Kruise on Friday should they miss their Miami embarkation.
We hope to have more information to you by tomorrow afternoon, but please know we're putting all efforts into making sure this long-awaited vacation is everything it should be. Please note, there are no plans for a change of departure from Miami on Wednesday, only a potential delay of a few hours to accommodate guests arriving late. Thanks for your patience while we explore our best options. If you need to contact Sixthman while you're traveling, please call us at 877-379-9183.
The weather forecast for the Bahamas and Caribbean looks beautiful for our vacation so do your best to get here safely and know we'll be looking forward to seeing you."
The line-up features KISS, SKID ROW, ADLER, YACHT ROCK REVUE, BIG ROCK SHOW, VINTAGE TROUBLE , A THOUSAND HORSES, LEDFOOT MESSIAH and RADIOLUCENT RADIOLUCENT.
Check out a new promo video for the kruise below:
[youtuber vimeo='http://vimeo.com/48006351′]
Cruise itinerary:
– Wednesday, October 31, 2012 – Depart Miami, FL (approx. 4:00 pm ET)
– Thursday, November 1 – Day at Sea
– Friday, November 2 – Great Stirrup Cay, Bahamas (8:00am – 5:00pm)
– Saturday, November 3 – Day at Sea
– Sunday, November 4 – Arrive Miami, FL (approx. 8:00 am ET)