Italy's LACUNA COIL have confirmed Dark Adrenaline as the title of their new album, due in October via Century Media Records.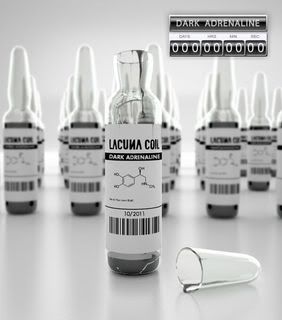 Lacuna Coil recently answered more questions about their forthcoming new album, submitted by fans through Emptyspiral.net:
Q: Any concept for the album?
Andrea Ferro: "No concept. Just a collection of songs inspired by all of the events that we have experienced in the past couple of years. For some of us, it was some really dark times."
Q: Is the direction still "heavier and darker" or has it changed since ?
Andrea Ferro: "Absolutely, some stuff is pretty tight, probably the heaviest we have ever written. But then we have some cool songs with a dark "oldschool" vibe, and then some other rocking songs which are a bit more modern and anthemic sounding."
Cristina Scabbia: "I just want you all to listen to it 'cause I think the old fans will be pleased as well as the new fans. The collection of songs are the perfect balance between an older and a newer style of rock metal – with a heavy punch and melancholic shadows.
It's hard to describe music… I hope you can just enjoy the trip with us!"
Submit your questions for Lacuna Coil at EmptySpiral.net.
Lacuna Coil have started recording the follow up to their 2009 Shallow Life album, which spawned the hit singles 'Spellbound' and 'I Won't Tell You'. The band are once again working with producer Don Gilmore (PEAR JAM, BULLET FOR MY VALENTINE), this time choosing to record in their native Italy to help focus on the more personal nature of the new material.
"This time around music has been our refuge from some of the darkest days of our life and that's why the new songs have such a variety of feelings… some stuff is pretty angry, probably the heaviest we've ever written, some other songs are intense, loaded with velvet dark emotions and there's even a little space for some light at the end of the tunnel", says Lacuna Coil co-vocalist Andrea Ferro. "People are askin' me if we're going back to our roots or if we're taking another step forward in a new direction… well to be honest I just feel that this is 100% a Lacuna Coil record and that is what really matters to me. I just love the songs and we felt a big wave of inspiration. The energy with Don in the studio is sky-high and we're ready to kick some ass."
"Collectively, we did so much in between Shallow Life and this one. We have lots of different experiences between us," continues co-vocalist Cristina Scabbia. "We've been loved and hurt, we grew up, we shrunk inside a little keeping ourselves together and our roots watered and are alive. I still can't believe that the energy in between us is getting better and better, but I guess that's what being a real family means."
Once Lacuna Coil completes the sessions for the new album, they will spend the summer performing at a select handful of European summer festivals, including Greenfield, Graspop and Sonisphere Spain.
"Summer means amazing energy from a lot of sweaty kids in front of a stage headbanging and jumping with us!" says Cristina. " I CAN'T wait to be up there again with Lacuna Coil. You better be there because we are ABSOLUTELY ready to rock you all!"
Live dates:
June
24-26 – Dessel, Belgium – Graspop Metal Meeting
July
16 – Madrid, Spain – Sonisphere
29 – Mala Skala, Czech Republic – Benatska Noc
August
13 – Sibiu, Romania – ARTmania