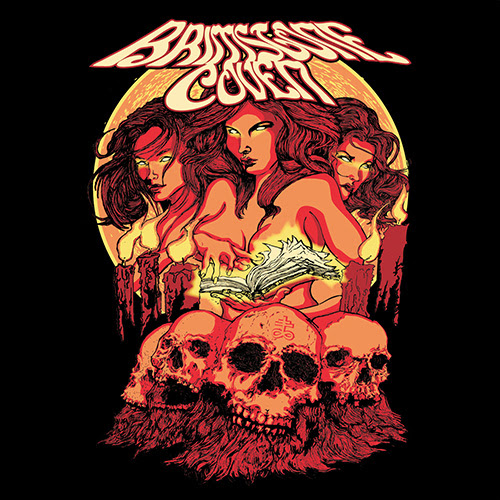 Retro rock/doom metal alchemists, BRIMSTONE COVEN, are pleased to unveil "Behold, The Anunnaki," the second movement off their self-titled full-length and inaugural release for Metal Blade Records.
Now playing at cosmic riff portal, The Obelisk, "Behold, The Anunnaki" earns its name from an assembly of deities in ancient Mesopotamian cultures (The Anunnaki), and oozes a cathartically magnetic, psychedelic swagger that's difficult not to fall prey to.
Describes The Obelisk: "In whatever context one might want to view it, Brimstone Coven is an album that righteously engages the tenets of classic doom. There's an early '70s sway to the material, a looseness in the rhythm section of bassist Andrew D'Cagna and drummer Justin Wood, that gives the chugging, grooving riffs of guitarist Corey Roth both meat and movement, and vocalist 'Big John' Williams meshes with this modus perfectly, the layers of his voice harmonizing and calling to mind the natural feel and melodic range of grandiose '70s prog, working with the music surrounding to give cuts like 'Behold, The Anunnaki,' 'The Black Door' and 'The Séance' a mystique without sounding overblown or needlessly theatrical. It's a careful balance and BRIMSTONE COVEN execute it well."
Check out "Behold, the Anunnaki," now casting spells and taking names at The Obelisk at THIS LOCATION.