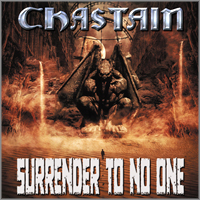 CHASTAIN's "Surrender To No One" marks the return of original vocalist Leather Leone. Long considered one of the originators of the female power metal vocal style, Leather proves on the new CD she hasn't lost anything from her glory days. Leather was the vocalist on the classic CHASTAIN albums:
Mystery of Illusion
Ruler of the Wasteland
The 7th of Never
The Voice of the Cult
For Those Who Dare
Also returning to the band is original bassist Mike Skimmerhorn. The drums are now being handled by Stian Kristoffersen (Pagan's Mind, Firewind).