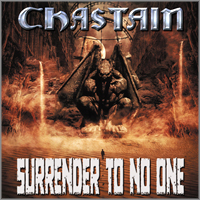 CHASTAIN's "Surrender To No One" marks the return of original vocalist Leather Leone. Long considered one of the originators of the female power metal vocal style, Leather proves on the new CD she hasn't lost anything from her glory days. Leather was the vocalist on the classic CHASTAIN albums:
Mystery of Illusion
Ruler of the Wasteland
The 7th of Never
The Voice of the Cult
For Those Who Dare
Also returning to the band is original bassist Mike Skimmerhorn. The drums are now being handled by Stian Kristoffersen (Pagan's Mind, Firewind).
Guitarist David T. Chastain states, "Leather and I picked up right from where we left off as if no time had elapsed since the For Those Who Dare tour. We have been working on this material for nearly a year and it was difficult to choose from all of the songs we had written. Our goal was to keep one foot in the 'old days' and one foot in 2013. Stian's drumming helped modernize the sound. I think Leather is basically the same vocalist as she was in our earlier days. Judging from her recent Keep It True concert it is obvious she still has what it takes in the live arena. I feel 'Surrender To No One' fits right in with her other CHASTAIN albums."
Leather further adds, "After our absence through the years, the title of this work says it all! I find much of it to be classic CHASTAIN. There are undeniably some modern concepts involved, life changes, we grow!! But I guarantee it will not disappoint, it is a CHASTAIN Cd!"
The new CD can be purchased or downloaded at sites around the world such as: iTunes, all Amazon.com sites, Best Buy, Tower, HMV, F.Y.E., Century Media, CD Baby, Hellion, CD Inzane and many others!
For More Info!!
www.chastainmetal.com
Comments
comments