Giles Lavery, vocalist of  Australia's Dragonsclaw
Interview by JP
---
Starting back in the beginning, how did you guys settle on the name Dragonsclaw?
The name was something Ben (Thomas – Guitars) had come up with when he was putting the idea for this band together… he has an interest in dragons so it was his idea to call the band this.
 I realize that Australia is a massive country but it is known for a very strong Power Metal scene. Have you had much interaction or contact with members of bands Black Majesty, Pegazus, Illium, Lord, Dungeon, etc in the early days. Were they helpful on giving advice on how to make the jump to the international stage?
We have friends in these bands sure, or friends who have been in these bands, but no there was no help or advice… we haven't had any conversations with any of these acts, we just kind of do our own thing and carry on our way… thats not to say we wouldnt be interested in doing some shows or something with anyone of the acts, it just hasnt transpired, we've been pretty independent so far really.
Tell me about your mascot, who is he (or she) and does he have a backstory?
it's a "he" lol , the design was originally by an artist we have used called Maggot Meister … he did the first album art and the art for Judgement Day, he's a cool guy and really creative… super easy to work with and as far as im concerned he is our "front cover" man for life… we decided to continue with the gasmask character (we call him "Gassos") after the first album as we liked him and thought it would be a strong iconic image to carry through… we use him in different scenarios on the single covers as well… those two singles "Watching My Every Move" and "Fly" were illustrated by Evan Green… a good friend of mine who totally "gets it" as well… he's also done some art in the upcoming video for Battle Cry…

In a semi-related note, in this day and age of digital downloads and disposable singles, how important is to you to have a identity, a logo, a mascot and a physical product on the market?
I think it is very important… to stand out from so many other bands… or to have a potential fan look twice at your product… it's really hard to stand out… especially when so many things have been done before…
Are you still working with Arkeyn Steel Records? I thought I read something about you working with Killer Metal Records too? Have you had any interest from the bigger Metal labels?
We spent a long time waiting for the right label… we felt the distribution on the first album along with the promotion could have been stronger… but i understand its hard times for labels too, we had some interest from a couple major metal labels… but it either didn't feel right or they asked too much for too little in return… in fact one label wanted 5000 euro from us to be on "their" label… it's truly the end for young bands when this is the tactic employed by bigger labels looking for new bands or a business model in 2013… in the end we decided on Killer Metal Records in Germany… Jens was open to negotiation and appears to have a very professional set up… we look forward to seeing what he can do for us.
 Moving into the present time, was their any additional pressure (self-imposed or otherwise) to meet the standard set by your debut?
we always just try to write the best songs we can… we worked really hard to not repeat ourselves, not deviate too far from our style and add some new elements too… i think this new album sees our "sound" coming through a bit more… but the 2 albums compliment each other nicely i think, i view the new one as a bit more mature… but thats just my opinion
Tell us a bit about the writing and recording process. This album seemed to come out quite quickly after the debut and still maintain great song-writing, in my opinion.
Well , we wrote/tracked the debut in late 2010 through to around mid 2011 … but it didnt come out until Christmas 2011, so before the first album came out ,we already had some new tracks… and the same thing with this album.. it was finished pretty much as far as writing and tracking by october 2012… but here we are in mid 2013 and its just coming out now… via itunes first… then later in August on cd via Killer Metal Records so we have a bunch of ideas for a third… but that wont be for a while…
I understand you hit the road to work with Warlord recently. Can you tell us about your adventures? Was there any debate amongst the band about which Warlord song to cover?
Yes the Warlord tour was great, playing with one of my favorite bands and to some of the best meal fans in the world was just fantastic! I met alot of great people and had a lot of fun… as for the Dragonsclaw cover of Lucifers Hammer … that was more my choice than anyone else in the band.
How did David Reece (ex- Accept) and Jack Starr come to be involved with the album?
While demoing and tracking the song "watching my every move" , i just wasnt satisfied with the way it was sounding , the song is about the "psycho" normal bates character… so to get that "split personality thing" i decided to ask David if he's be interested in singing with me…trading off the lines…. he was! and he did a great job. Same with Jack Starr on "Battle Cry" , he played a killer solo on that!
Check out David on this video!
 I felt 'Defenders Of The Skies' was one of the better songs on the debut. Tell us about the sequel song 'Fly'. 
It was a track that while we were writing it i noticed it had some similar motifs and the subject matter was similar… so it kind of developed into a sequel of sorts, but it stands on its own as a track in its own right too.
Another neat song was 'Battlecry'. For the fans who may not know the story behind this great song can you tell us the story and inspiration for it?
Sadly Mark Reale from Riot passed away while we were demoing for this album… i am a massive fan of Riot and of Mark so i was very sad.. he's such an under-rated legend in heavy metal… Riot never got the attention or success they deserved , and it's great now that maybe more people are coming around to them and checking out the awesome catalog of music they have… so Battle Cry is our tribute to RIOT and to Mark, its mostly lots of Riot references lyrically tied together… it's our "Salute" to Riot, to Mark and to fellow Riot fans.
Do you have any plans to tour beyond your homeland?
As Dragonsclaw it would be great to tour overseas… i just came back from the Warlord tour and there were lots of people asking me about Dragonsclaw, so we are known to some people.. it's just a matter of a promoter showing interest and wanting us to play… we would be there anytime.. we really want to tour.
What is the next step in Dragonsclaw quest for global domination and what can we do to help?
You have been awesome my friend… the best thing anyone can do to help is to help to create awareness of us, that is what we are trying to do with our music, our videos, doing interviews… hoping people pick up on our news and what we have going on… it all adds up more than you'd realize, oh and we have some tracks from both records available from our facebook/reverbnation pages… for free download if anyone would like to check us out who hasn't already…
Thank you my friend, for your support and your great website!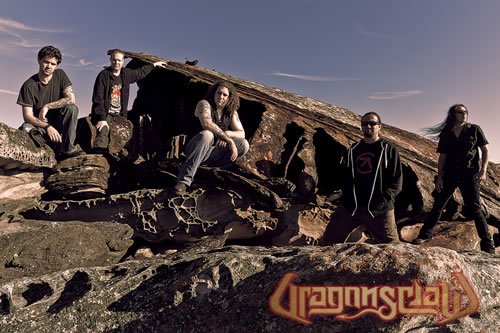 Feel free to check out my reviews of Dragonsclaws first two albums on our website.
Comments
comments