Heaven and Hell Records will be releasing all the North Carolina False Prophet material on CD early in 2013. As one of the next releases in the Lost Relics collection.
Formed in the late 1980s False Prophet would quickly become one of North Carolina's leading metal bands and one of the East coast's most fierce thrash/death metal acts of the early 1990s. Their first self-titled demo released in 1989 gained them promising attention in the  underground. But it wasn't until the release of their full-length 'Second Death' in 1991 that the band began to gain mass critical praise from critics and peers. Many of whom saw False Prophet as the next Morbid Angel.
The band toured the region playing with such acts as Danzig, Confessor, Forbidden, Demolition Hammer, Dark Angel and eventually landed a deal with Belgium label Mausoleum Records. Unfortunately an album would never be release. By 1993 the band changed their name to Infernal Hierarchy and released one two song 7″. Soon after the band that was once known as False Prophet would come to an end.
Finally this awesome thrash/death metal will see a proper release all re-mastered by Jamie King at The Basement Studios in Winston Salem.
To be included; 'Sign of the Cross' 1989 4 song demo
01. Red Dawn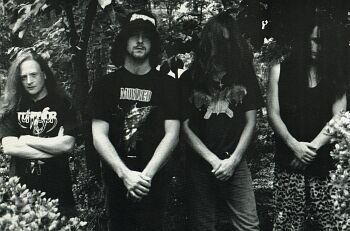 02. Sign of the Cross
03. Devil's Meat
04. False Prophecy
'Second Death' 1991 full-length,
05. Diabolic Rites (Intro)
06. Second Death
07. Holy Deception
08. In Satan's Name
09. Forgotten Souls
10. Bring Back a Memory
Infernal Hierarchy 1993 7″
11. First Born
12. False Prophecy
FALSE PROPHET
For More Information on this and other releases, visit:  
Or Visit us on Facebook:
www.facebook.com/heavenandhellrecords
Comments
comments