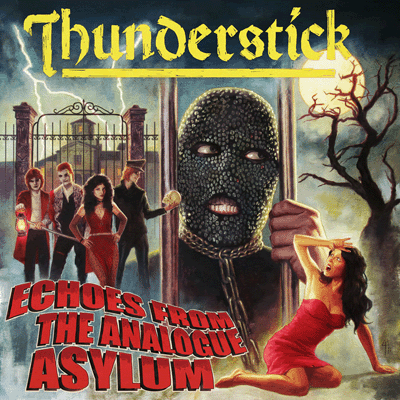 Continuing the Lost Relics archive series Heaven and Hell Records plan to release later this year the never before issued on CD Thunderstick material. The release will include both 'Feel Like Rock 'n' Roll?' EP from '83 and the 'Beauty and the Beast' full length from '84. Both of these N.W.O.B.H.M classics are fully re-mastered for this release and will include plenty of bonus material, band history and extensive ECD photo gallery. Artwork for 'Echoes from the Analogue Asylum' has been created by new comer cover artist Yannick Bouchard www.illusorydreams.com/ whose work can also be seen in Heavy Metal Magazine. The beautifully painted classic horror movie image captures perfectly the inspiration that helped to create the concept of Thunderstick band.
For those who may not be familiar with the infamous Barry 'Thunderstick' Graham he played a leading role in the infancy of the New Wave of British Heavy Metal in the late 1970s. After a brief stint in Iron Maiden, Barry traded spots with drummer Clive Burr to set on the throne behind scene forerunners Samson. There Barry further evolved the maniacal persona known as Thunderstick. The hooded, S&M garb clad wild man caged with his drum kit caught the imagination of the press, making Thunderstick a figurehead of the fledgling movement. After three albums and a number of singles with Samson, Thunderstick would break out of his cage in search of his own vision.
Inspired by Rocky Horror Picture Show, Alice Cooper, and Hammer films, the Thunderstick band was born in 1981. By 1983, the N.W.O.B.H.M was quickly coming to an end when the band's debut EP 'Feel Like Rock 'n' Roll?' was released. The following year the full length 'Beauty and the Beasts' was released.  Still with a fair amount of exposure it seemed that a female fronted, poppy-rock band with a vampiric glam image was suspended in twilight with audiences. The Thunderstick band would not live a long life afterwards but the legend of Thunderstick the man would live on.
We at Heaven and Hell Records are thrilled to be dusting off such classic pieces of your favorite era of heavy metal history. And we are sure there are fans and collectors alike who are sure to be pleased.
For More Information, visit: www.heavenandhellrecords.com
Or Visit us on Facebook: www.facebook.com/heavenandhellrecords
Comments
comments