Rainbow In The Dark: The Autobiography Of RONNIE JAMES DIO, the revealing memoir of the heavy metal master, was sold at auction to Jacob Hoye, Senior Director of Publishing at MTV Books, by Shawna Morey, in her first deal at Folio Literary Management, LLC.
Renowned for his powerful, hard-driving vocals, Dio, lends that unique voice to recount his extraordinary journey from early pioneer in a burgeoning music movement to his undisputed reign atop the heavy metal landscape. He was born in a time and to a family so far removed from the hard-rocking world he would dominate for nearly five decades, but his unbounded passion and peerless talent broke barriers and legitimized heavy metal as an alternative art form. His creative genius made him a legend.
With nearly five decades of worldwide success and album sales in the tens of millions as the front man of ELF, RAINBOW, DIO, BLACK SABBATH, and, most recently, HEAVEN & HELL, Ronnie James Dio grabbed the mic, took the stage, and led a movement whose influence resonates to this day. In Rainbow In The Dark, Dio himself will introduce the reader to this incredible life and the over 50 photographs included will provide readers with an unprecedented all-access pass to the rock concert of a lifetime.
During his life, Dio drew on the energy and devotion of millions of fans from around the world for the strength to create, entertain, and give back. In his death, he leaves us with his own voice and his own story to edify and inspire. He also leaves us perhaps his most important legacy, the Ronnie James Dio Stand Up And Shout Cancer Fund, a non-profit founded by Dio's widow and manager, Wendy Dio, to fund and advocate for cancer research and screenings for society's underprivileged.
On May 16th, 2010, the day Dio finally succumbed after a lengthy battle with cancer, the music stopped and the curtains were drawn. Rainbow In The Dark will open those curtains and reignite the band. A spring 2012 publication date is planned.
As previously reported…
You know how hard it is to find the right card to send to your metal buddies, right? Now you can send them a Ronnie James Dio Christmas card!
When you open the card, Ronnie pops out and the card plays his version of 'God Rest Ye Merry Gentlemen'!
Supplies are limited and you can purchase the card in the Official Dio Web Store!
Check out images of the card below: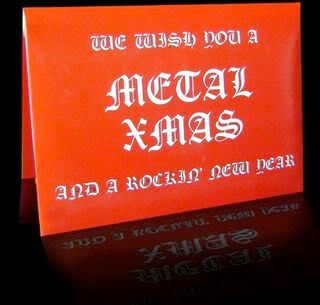 Ronnie James Dio – A Photographic Memoir will be released on November 30th via Rufus Stone Limited Editions.
Ronnie James Dio was one of rocks most respected and talented frontmen, renowned for his instantly recognisable vocals, lyrics and stagecraft. On May 16th, 2010 Ronnie succumbed to cancer and the world of hard rock lost one of it's greatest talents.
Renowned music photographer PG Brunelli travelled the world with Ronnie from 1983, photographing him onstage, backstage, at home and in the recording studio. This special, large format hardback book takes the best of PG's photography and weaves a memoir of Ronnie's life starting onstage at Donington Monsters of Rock in 1983.
Together with unique written contributions from BRUCE DICKINSON, ROB HALFORD, DOUG ALDRICH and many of his peers, colleagues and fellow professionals. This photographic memoir has been compiled with the knowledge and approval of Ronnies wife, Wendy.
Available in two limited edition versions, starting at just £40 (plus p+p) Ronnie James Dio – A Photographic Memoir is released at the end of November 2010.
To secure your standard or Hardkase version early ordering is essential. £10 from the sale of the standard version and £30 from the sale of the Hardkase edition will be donated to the Stand Up and Shout Cancer fund.
Click here to view a 9-page sample.
Further details at this location.
Comments
comments